Nollywood Actress Etonisa went really hard on an IG troll who mocked her for going naked a while back on Instagram yesterday May 16th.
Trouble started when she wrote on her page:
 "Sad. Jesus fed 5000 people".
The troll in an attempt to insult her wrote:
"But Jesus no naked feed the 500".
Etinosa felt insulted by the comment and in anger prayed that the child of the troll dies before the end of this month.
See their exchange below: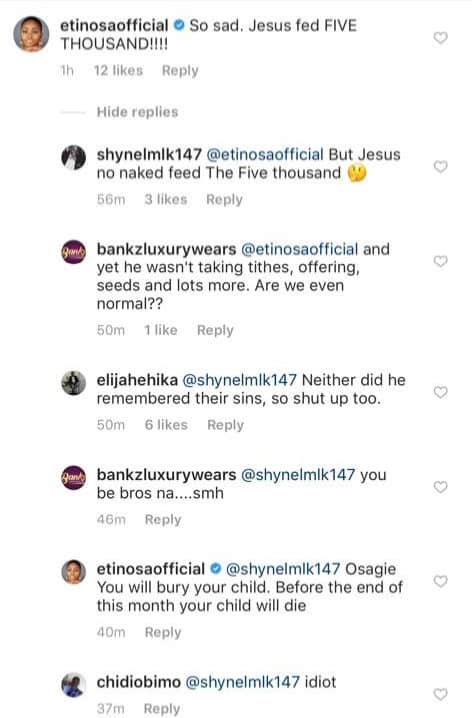 The troll quickly laughed off the comment, saying there's no way in heaven her curse will work on him or his child. The troll further wrote; "Loz, Edo Jazz no dey work for Edo boy like me".
Replying authoritatively, Etinosa wrote; "I need you to screenshot this comment so when your child dies, you will know it is me. I was on my own. I do not know you and I have never offended you but you choose to hurt me because for you this is "just social media". Well social media will turn to real life very soon starting with the loss of someone in your family. Screenshot this comment
Get more GIST like this
Subscribe to our mailing list and get interesting nollywood news and celebrity gist in your email inbox.