NOLLYWOOD.NEWS: What is this we are hearing again? That Tonto Dikeh almost committed suicide after getting into a fight on movie set with the likes of Ngozi Nwosu and Kenneth Okonkwo. Read about the incident on NollywoodCommunity.com and let us know your thoughts and advice for Tontolet, aka 'Poko'.
If there's anyone who life is not easy for in Nollywood, that person is no doubt, the queen of controversy — Tonto Dikeh; who was raised by a single parent (her father), after losing her mother to the cold hands of death when she was a child.
TONTO DIKEH'S SUICIDE ATTEMPT
According to a recent report gathered from The TIDE, before Tonto Dikeh attempted to commit suicide last week, she was on a movie set with movie director, Chima Okoroji.
According to the director of the movie, the actress caused commotion on the movie set last week. She reportedly fought fellow colleagues like veteran stars Ngozi Nwosu, Kenneth Okonkwo and others.
When Tonto Dikeh was called to order, she allegedly walked out on all of them. The latest report from Tonto Dike's friend is that she attempted to kill herself last week following a serious down turn in her career. (Source: THE TIDE / http://bit.ly/1eZINlz)
(UPDATE: @nollywood was able to confirm that some of the recently reported stories about Tonto Dikeh fight / suicide, by The TIDE, were mixed reports from previous years and maybe of recent. So take note of that.)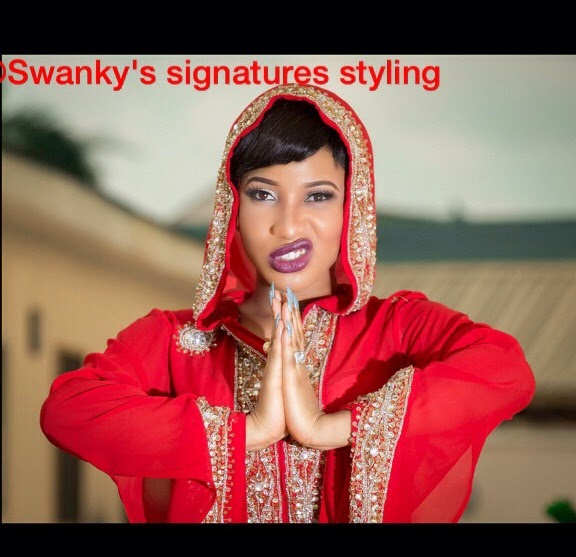 The TIDE further gathered that many Nollywood movie producers have decided to choose Mercy Johnson, Ini Edo  or other stars over Tonto Dikeh due to her rudeness on set.
Nollywood insider said it seems the movie producers have ganged up against Tonto Dikeh, who is also known as Tontolet on social media.
Sources close to THE TIDE, says: if not for the timely intervention of her friends last week Tonto would have died. (God forbid oo…)
According to a source as reported by THE TIDE, "behind all the controversies she is generating as a woman who is trying to belong to a society she once belonged: "She (Tonto Dikeh) has lost most of her friends and advisers since she entered depression", concludes the source. (Source: The TIDE — http://bit.ly/1eZINlz)
Tonto Dikeh is arguably the only person in Nollywood, in Nigeria and probably throughout the African continent — that tattoos the face of a dog on her arm and calls it "family". Isn't that a sign of depression? Where is Tonto's real family??
In a recent interview on "The Truth", the actress who confirmed that she has not featured in movie roles since 2013 said:
"I have worked so hard to get contracts, I will not tell you everything I do, must you know what I do?  I do a lot of business, I am an engineer, I have life outside entertainment".
What words of advice do you have for our dear Tonto Dikeh, and when last did you pray for her? Because, suicide thoughts or attempts, is something not to be taken for granted. Since Tonto craves American lifestyle, see the facts below for statistics on suicide in the U.S:
Suicide is the 10th leading cause of death in the US for all ages. (Source: CDC)
There is one death by suicide in the US every 13 minutes. (Source: CDC)
There is one suicide for every estimated 25 suicide attempts. (Source: CDC)
Suicide takes the lives of over 38,000 Americans every year. (Source: CDC)
Get more GIST like this
Subscribe to our mailing list and get interesting nollywood news and celebrity gist in your email inbox.