Veteran Nollywood actor Kanayao O. Kanayo has revisited a controversial topic which was initially raised by fellow actor, Pete Edochie, some months ago.
Kanayo recently engaged with fans via an Instagram live video session and he had a lot to say about the issue of young men kneeling down to ask for their female counterpart's hand in marriage.
The movie star said he completely agrees with Edochie who had noted that it is wrong for men to do so. According to the respected actor, it is un-African for men to propose to their lovers in such way.
Kanayo added that those in the younger generation may tag their position as something best suited in the Stone Age. He, however, noted that they are free to live in their technological age.
According to the movie star, the practice of kneeling down to propose is simply an Instagram lifestyle and as such people should not always copy everything they see on social media or watch on their TV screens.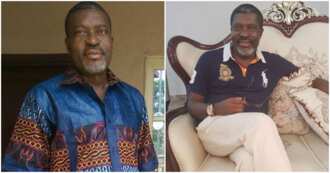 Actor Kanayo O. Kanayo. Photo: Instagram/@kanayo.o.kanayo
In a different post shared on his Instagram page, the actor called on his followers to stand against the practice of young men going on their knees to pop the question.
"Thanks for joining me on the discussion. SAY NO to emotional blackmail by boys kneeling on the street proposing marriage," his caption read.
Get more GIST like this
Subscribe to our mailing list and get interesting nollywood news and celebrity gist in your email inbox.